Main content starts here, tab to start navigating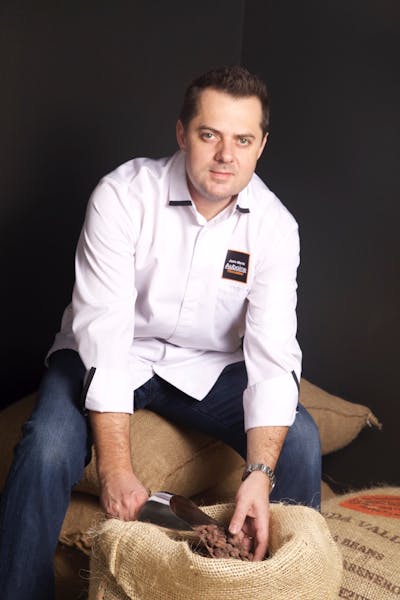 Chef Jean-Marie Auboine
Visionary Founder, President and CEO
With more than 30 years of Chocolate & Pastry Industry experience, Master Chocolatier and Executive Pastry Chef Jean Marie Auboine knew by 16 years of age that cooking was his passion. After graduating from Lycée Technique Hotelier Quercy at age 18, he served at some of the world's most esteemed restaurants. He began his journey at Le Louis XV - Alain Ducasse in Monaco, assisting the famed eatery in earning Michelin's highest honor, Three Stars. Chef Auboine continued his distinguished career at several Michelin-starred restaurants, which included One Star Chateau de Mercués in France and Hotel Beau Rivage in Geneva, as well as the highly respected Two Star restaurant-hotel, La Pyramide Vienne in France.
In May 2003, he was recruited as Executive Pastry Chef of the award-winning Presidente Intercontinental Hotel Mexico and was in charge of the resort's 6 restaurants and 22 banquet rooms, satisfying the palates of some 2,300 hotel guests. A year later, Chef Auboine was promoted to Corporate Pastry Chef and given the added responsibility of Presidente Intercontinental Hotel's 7 additional Mexican resorts.
Chef Auboine has also held the prestigious position of
Executive Pastry Chef for Fontainebleau Miami Beach where he set impeccable pastry standards for 11 lavish restaurants. The delectable designs he created during his tenure earned him a "Best Dessert" distinction from the Miami New Times in 2009.

In 2009, Chef Jean-Marie Auboine brought his mastery and skill to Las Vegas, and joined the Bellagio (AAA Five Diamond resort) as the Executive Pastry Chef. In this role, he oversaw the pastry, dessert and chocolate creations for 19 gourmet and casual dining outlets, room service and catering department. Multilingual, Chef Auboine speaks fluent English, Spanish, Italian and French, allowing him to effectively communicate with his team of 75 employees, who expertly produced approximately 15,000 pastries each day.
In June 2011, Chef Auboine created Chocolate Solutions LLC for Consulting, MasterClasses, R&D and in August 2011 a New Chocolate Concept was born: Jean-Marie Auboine Chocolatier, located in Las Vegas.
Jean-Marie Auboine Chocolatier opened in February 2012 and specializes in Unique Artisan Hand Made Chocolates & Confections supplying the most prestigious hotels, casino, resorts, pastry shops and retailers nationwide.
In December 2014, Jean-Marie Auboine Chocolatier became one of the few Chocolatiers in the world to prepare his own Crafted Chocolate from beans carefully selected around the world and processed in the Las Vegas Facility, developing a unique Fair Trade Program with cocoa producers.